Whatever you do, it is good to be creative. It is a great feeling when you use your imagination to think your way out of problems or think up wonderful new things for the world to have.
Here on my website are interviews with people who are involved with creativity in art, writing, movies, music and in other creative ways too. I have just started putting these interviews up. They will show you a bit about how these people tick and how they got started. The interviews should show you that you can be creative in your life too.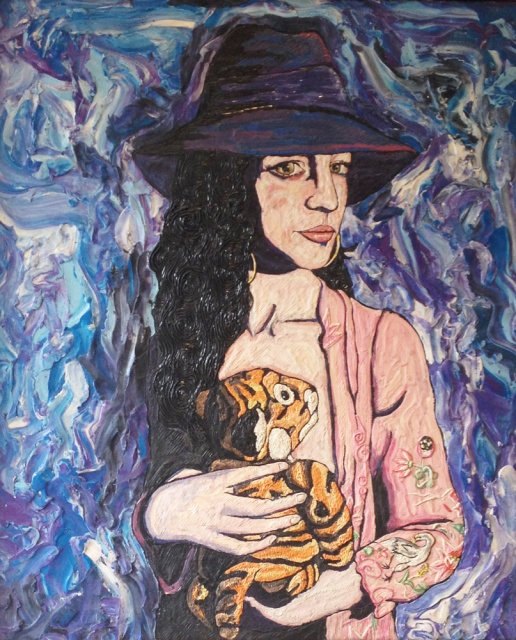 The first interview is with artist Henry Hudson.
He did this portrait of my daughter Tiger using plastercine.
I plan to do loads of interviews… with writers, of novels, poems, graphic novels, plays and screenplays, and actors, stunt artists, comedians, musicians, composers, song writers, and dancers too. I'll talk to artists, sculptors, painters, illustrators, directors, of both film and theatre, film editors, casting directors, set designers, costume designers, makeup artists, photographers, film camera people, lighting designers, website designers, architects, garden designers and chefs. There will be a few other interviews, like an interview with the dog trainer who handled Lola and Charlie, the two pugs who were in the Molly Moon movie. I'd like to track down a reptile wrangler too.
I will also do interviews with some technical people who work in the creative world, gaffers, for instance, the electricians who make sure the lighting is right on a movie set or the sound recording people. I am going to do an interview with a plumber because it strikes me you have to be both knowledgeable and creative to work out what is wrong with the plumbing or heating in a house.
I'm also going to interview the brilliant hypnotist who I have been to four times.
In fact I am going to interview every single person in the world. There will be seven billion interviews. A lot of them will just be pictures of babies, as they don't have much to say when they are interviewed.
I am interested in interviewing some of you too if you are doing interesting creative stuff. Whether its making sculptures made from plumbing pipes and bricks or poems written back to front in chocolate, whether your creative thing is something that ends up in pictures or words or music – however it comes out, I am interested. So please do get in touch via social media, facebook or the website if you are interested. And, if you are not a confident person and you are automatically thinking, "No one would be interested in my stuff," please knock that thought out of your head and get in touch.
X
So for starters, here are a few interviews for you.


A post from Georgia Byng